Your audience—your customers, clients, investors, stakeholders—get their information and news the same way as you do. It is statistically likely they find that information online. The majority of us get our news and features online—59% of us, according to Pew research. 80% of North Americans, according to World Bank Data, search out their information online.
Although mainstream media remain important, increasingly internet PR—public relations in the virtual and internet space—is becoming the most sought after speciality. If your news isn't online, your brand loses significant opportunities for awareness.
For example, the average time spent per day online with major media by US Adults in minutes per week was 173, second only to TV at 278, yet TV is showing steady decline year after year: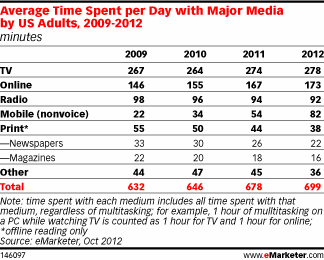 Data from eMarketer: Average Time Spent per Day with Major Media by US Adults, 2009-2012
Internet PR goes far beyond PRWeb press releases. Our solutions are customized to the needs of the brand, their audience and the message. The purpose, goals and mission drive our campaigns, which might include the traditional web release, but is more likely to include a diverse integrated mix of releases, social media, blogging activities, forum and blog commenting, newswatching, newsjacking and SEO activities.